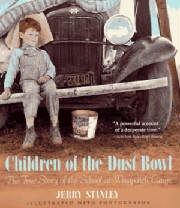 Stanley, Jerry. 1992. Children of the Dust Bowl: the true story of the school at Weedpatch Camp. New York: Crown Publishers. ISBN: 0517587815.

Although most people have learned about the Dust Bowl by reading The Grapes of Wrath, Stanley takes it a step farther by focusing on the children of the Dust Bowl. The book starts by explaining the causes of the Dust Bowl and follows the Okies on their Westward trek. Although the children are not wanted in the public schools by native Californians, they eventually become the envy of the town when they build a remarkable school for themselves with their own hands.

This is truly the story of the triumph of the human spirit, and Stanley is able to tell it on many levels. His research into the facts and figures of the effects of the migration on California allows readers a broad view of the topic. "Epidemics of disease in the Okievilles caused the health and sanitation budget for Kern County to double between 1935 and 1940. During the same period, overcrowding in the school caused Kern County's education bill to increase by 214 percent, while property taxes rose 50 percent." (p.34) After giving readers a look at the figures, Stanley narrows his focus and personalizes his subject through stories from the actual residents of Weedpatch Camp and the administrators of the school. Not only are readers told the story of school superintendent Leo Hart, but they are able to read his own words through interviews conducted by the author. "I could never understand why these kids should be treated differently. I could never understand why they shouldn't be given the same opportunity as others. Someone had to do something for them because no one cared about them." (p.44) Author Jerry Stanley's thorough research for this book is evidenced through sections at the end of the text entitled Bibliographic Notes and Picture Credits and Acknowledgements. An index is also included.

As the author's words voice the story of the school at Weedpatch Camp, well chosen pictures bring the stories to life. Readers are able to read about a student, teacher, or administrator and also see their photograph. Pictures of people traveling across the United States in ramshackle jalopies, signs telling them to go home, and the construction of the school allow readers to take a tiny step into their world.