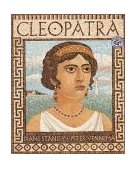 Stanley, Diane. 1994. Cleopatra. Ill. by Peter Vennema. New York: Morrow Junior Books. ISBN: 0688104134.

Diane Stanley and her husband Peter Vennema collaborate in this picture book biography that tells the life of Cleopatra from a fresh perspective. Aimed at readers from second grade and up, Stanley begins the book with a readable preface that both gives necessary background knowledge and also sets the tone for the story (At the time our story opens...). A note on Ancient sources and a detailed map also precede the main text and allow the reader to familiarize themselves with the setting of the story. A Pronunciation Guide and Bibliography follow the main text.

One of Stanley's outstanding strengths is her ability to tell history in a way that is thorough and understandable yet does not condescend to young readers. The story unfolds in a fashion that is easy to follow and also gives many details of Cleopatra's life. Stanley emphasizes the fact that although Cleopatra has been portrayed by history as a Jezebel, there were many more facets to this famous woman from history. In describing Cleopatra's relationship to Julius Caesar, Stanley says, "It is traditionally believed that Cleopatra dazzled Caesar with her great beauty. Instead, it was the power of her intelligence and personality that drew him to her." Stanley's text goes on to illustrate this through accounts such as Cleopatra's political savvy and ability to outwit her enemies.

Vennema's colorful artwork leaps off the pages of this biography. Bright colors and realistic facial expressions on the characters enhance the text by giving reader's a glimpse of what Cleopatra's world might have looked like. Vennema stays true to the period of history being discussed by adding elements such as mosaic tile (both in the illustrations and as a background for the text), period clothing, and accurate drawings of ships from Cleopatra's time.