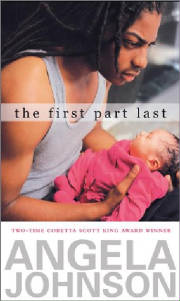 Johnson, Angela. 2003. The first part last. New York: Simon and Schuster Books for Young Readers. ISBN: 0689849222.

Bobby is a teenager living the reality that many young men face today, but he makes a choice that is not always the most popular. When he finds out that his girlfriend is pregnant, he chooses to raise his daughter as a single dad. Although his family offers some support, it is Bobby who is ultimately responsible and must make life changing decisions for himself and his infant daughter.

This award winner (2004 Coretta Scott King Award, 2004 Michael Printz Award) grabs the reader from the first page as Johnson reveals a little more with each chapter about Bobby's character and the reality he is facing. The book is told in chapters that alternate between "then" and "now," and the author is able to make this work by seamlessly telling two parts of the story concurrently. Written in the first person, the story moves quickly with short sentences and quick topic changes that seem to follow the thought patterns of the typical adolescent. Johnson makes Bobby seem real not only through his vernacular in talking with his friends, but also by revealing his inner conflict over the choices that he alone must make, such as "No, I don't know anything about raising a kid. I'm sixteen and none of those people on the wall look like the kind of family me and Feather's gonna be. But I'm doing it." (p.124)

One of Johnson's great strengths is her ability to show the realities, both positive and negative, of Bobby's situation. Without didacticism, Johnson paints a picture of Bobby's love for his daughter, but also the inevitable hardships that face any parents and are even more glaring when the baby is parented by a single teenage father. As Hazel Rochman wrote in Booklist, "There's no romanticizing. The exhaustion is real, and Bobby gets in trouble with the police and nearly messes up everything. But from the first page, readers feel the physical realities of Bobby's new world; what it's like to hold Feather on his stomach, smell her skin, touch her clenched fists, feel her shiver, and kiss the top of her curly head. Johnson makes poetry with the simplest words in short, spare sentences that teens will read again and again."

Rochman, Hazel. 2003. The first part last: Book review. Booklist 100 (1): 122. In EBSCOHost (database online). Available from http://search.epnet.com/login.asp. Accessed 8 July 04.